To understand the importance of massage, it helps us to understand stress. Stress is an automatic reaction to anything we perceive as a threat. In a stressful situation, our response is fight of flight. It doesn't matter f it's danger or the stress of everyday living. Our body responds with tensing of the muscles, shallow and more rapid breathing, increased adrenaline, heart rate and blood pressure. Hopefully, once removed from the stressful situation, things return to normal. However if you find yourself consistently under a great deal of stress, it becomes more difficult to let go and relax.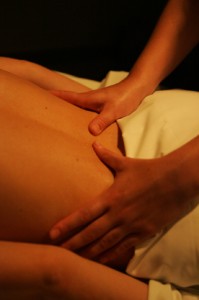 Therapeutic massage and stretching can help you regain and maintain proper alignment. When muscles are relaxed and restored to their optimal length, correct posture and alignment are more easily sustained. Therapeutic massage is an age-old remedy, which has proven to be an effective complement to care at Orlando Spine Center. Both are based on belief in the innate power of the body. Together NUCCA care and massage facilitate the natural healing process by keeping the body in proper alignment and ensuring a free flow of nerve impulses and circulation of fluids. Massage can trigger the relaxation response, relieving the negative effects of stress and restoring balance in the body. Some positive effects of the relaxation response include slower heart rate, deeper breathing more relaxed muscles, and better internal circulation and digestion.
Problems in the musculo-skeletal system can impede the natural healing process, and often cause dysfunction and pain. It is important to treat soft tissues such as muscles and tendons to help prevent and correct subluxations, and lessen the accompanying pain. For these reasons, the doctors of Orlando Spine Center may also recommend massage as an adjunct to care.  However, each patient is evaluated independently and recommendations are made based on the situation.